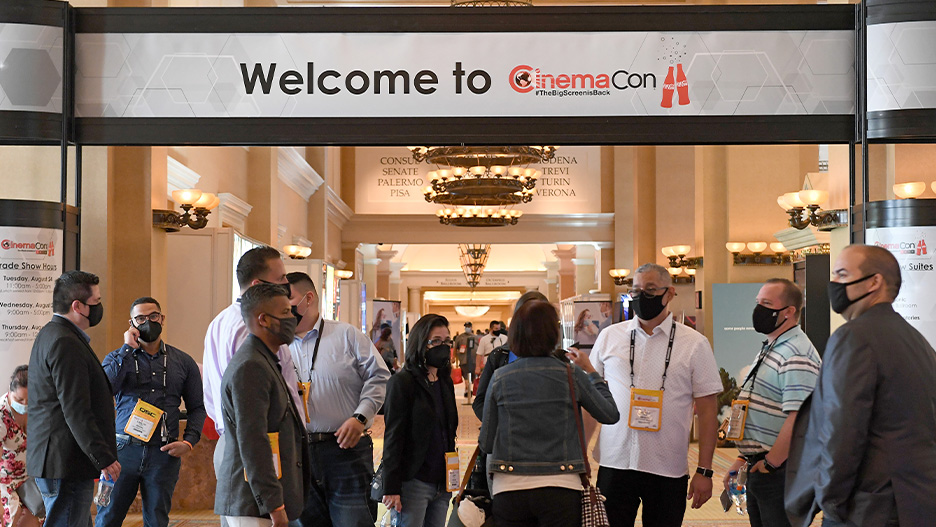 How Movie Theater Owners 'Learn to Live With COVID': A Report from CinemaConTheWrap
Even with reduced festivities and the shadow of the Delta variant looming, the upbeat show message shines through.
The spirit of CinemaCon 2021 could be best summed up when its CEO took to the stage this week at Caesar's Palace Colosseum wearing a 'Son of the Pink Panther' t-shirt and 'Jurassic Park III' cap, memorabilia from the cinema trade shows from decades past.
The optimism that Mitch Neuhauser brings to this point every year has not been shaken – not even with a pandemic still sweeping the world. "Let us remember those we have lost, but that this week that we are spending together is also the point where we start to look to a better future," said Neuhauser. "Because I really believe that no matter how long it takes, we as an industry will come back stronger than before because people really enjoy going to the movies. "
While the mood behind the scenes was much more cautious – especially with the Delta variant increasing infections and hospitalizations nationwide – theater executives told TheWrap they believe theaters will be able to return. at the box office peak of 2018-19, although it is taking a little longer than they expected. It was the kind of optimism that drove exhibitors and studios through the most turbulent times in industry history.
"I don't think his stubborn optimism; it's data-driven optimism, "Tim Handren, CEO of Texas-based nine-theater Santikos Theaters, told TheWrap. "We know there are going to be ups and downs, but still an uptrend because we've seen the data. With Delta, we saw our participation in August take a big hit, but in July we saw it reach 70% of pre-pandemic levels and that was just with two big movies.