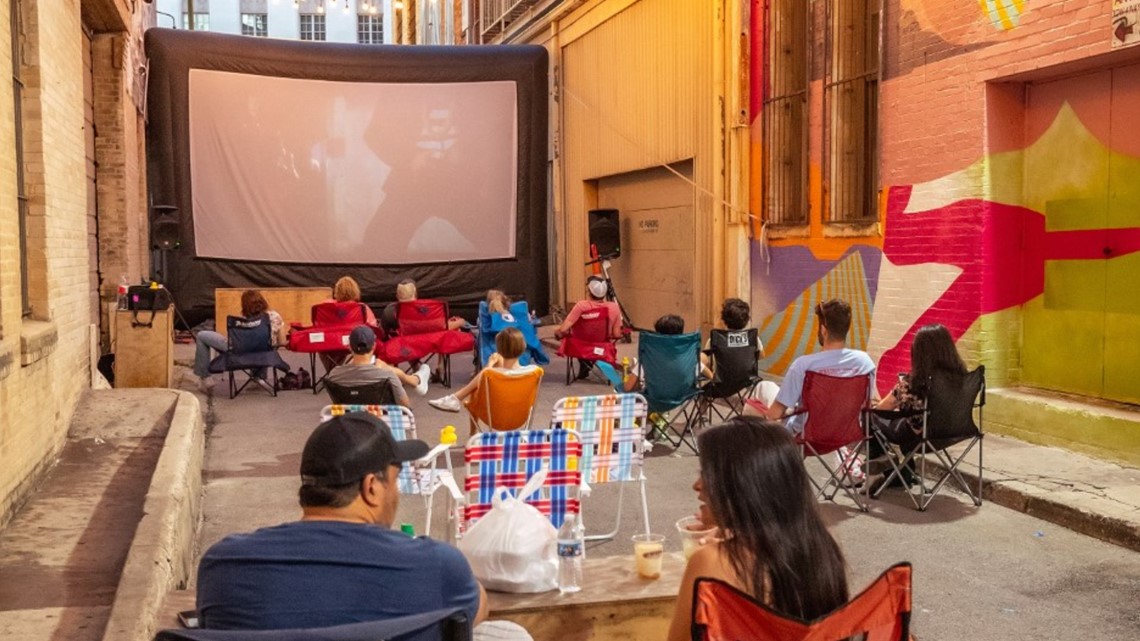 Free movies coming soon to downtown Peacock Alley
Films like "Napoleon Dynamite", "Office Space" and "Die Hard" could be shown at Peacock Alley (south of Travis Park) in October, November and December.
SAN ANTONIO – The video above is a couple of Centro SA sponsored wall projects, seen from Peacock Alley (to the west).
If you missed it during the summer – discovering the distinctive alternative of enjoying a free movie under the charming fairy lights of San Antonio's Peacock Alley – don't worry. There are three probabilities of achieving this before the end of the year, starting this week.
On Friday, "Napoleon Dynamite" could be proven on the location tucked between two obsolete buildings, just one block south of Travis Park. The movie starts at 7:30 p.m. and to make things even more fun for fans of the 2004 film, event organizers hope that having children on hand for the first 50 entrants will keep them laughing. In addition, Gatorade could also be distributed to these first 50 people.
Peacock Alley films are made possible through the San Antonio Downtown Development and Operations Department (CCDO) and Centro San Antonio.
You are welcome to take garden chairs and there may also be themed meals and drinks in the market at each exhibition.
The opportunities are open to the general public. And if you can't come on Friday, put these two following dates in your calendar:
Friday November 12: Office space

Friday December 10: Die Hard
Peacock Alley has welcomed hundreds of people with opportunities that include Indigenous artists, businesses and musicians who have used the area to reach out to the general public. It was also the place where people loved to see it snowing in 2019 (before the real winter storm of 2020).
"This space has come to represent the scope of our work downtown. From the lane artwork of local artist "Scotch!" "At events that directly benefit hyper-local artists and small businesses, the alley embodies our commitment to creating a more welcoming, beautiful, fun and prosperous downtown in the spirit of San Antonio", Elizabeth "Liz Burt, director of urban activation for Centro + Play, mentioned.